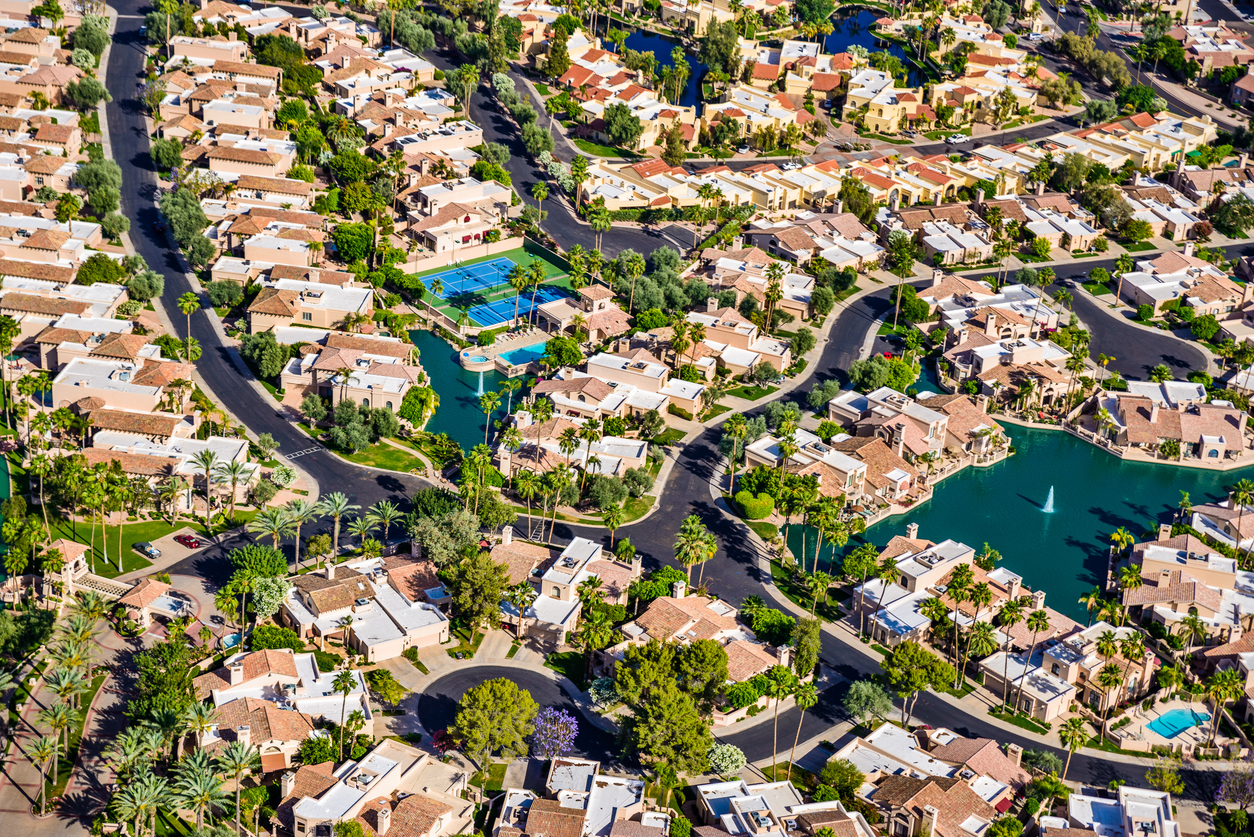 Nearly a decade after the recession, home values in the Valley have steadily grown. The strong recovery is consistent with trends observed in housing markets across the entire state.
As far as bouncing back goes, Scottsdale continues to lead the way for Metro Phoenix. The US Census reports that median home values across the city have increased by more than $177,000 from 2010 to 2016, topping the region with an annual appreciation rate of almost 6.5 percent.
Luxury communities leading the charge
Some neighborhoods have exhibited faster appreciation than others, particularly those in the luxury market.
The Arizona Republic's recent study of eight large, upscale neighborhoods in Scottsdale showed that the top five locales boasted average sale prices (per square foot) that increased by at least 20 percent from 2011 to 2015. The communities that topped the list were DC Ranch (41%), Silverleaf(38%), Grayhawk (31%), Desert Mountain (30%), and Ancala (20%).
For all eight neighborhoods included in the study, the yearly price per square foot increased from $290 to $377 – approximately 30 percent on average.
Factors that affect a home's value
The study gives Scottsdale homeowners a lot to be encouraged about, but it is also important to understand how home values work.
Mike Orr, director of the Arizona State University's Center for Real Estate and primary research collaborator for the study, cautions property owners that home values are always subject to fluctuations.
"[Home prices are] like the stock market," Orr clarified. "The past behavior of prices does not predict their future behavior." He added that home price estimations are more accurate based on the supply and demand at any given time, rather than the current prices or price trends.
Here are more key points that homeowners should understand about home value fluctuations:
Land is an appreciating asset by default.
This is because supply of land is fixed, and therefore limited as the population continues to grow.
Location, location, location.
Scottsdale's proximity to Phoenix boosts its appeal as a residential location.
But even the specific location of your neighborhood – as well as where your home is inside your neighborhood – can also influence how your home's value will change over time.

A house in a cul-de-sac, for example, is likely to increase or at least retain a high value. This location is always in high demand because of its implied safety and relative distance from traffic.

Upgrades and renovations do not guarantee an increase in value.
In fact, overdoing it can sink your home's value. If you are keeping remodeling plans an option, consult closely with your Realtor to know whether the changes you have in mind are popular or desirable in your neighborhood. Also note that smaller, less expensive projects deliver larger returns when you sell your home.
Future development can help or hurt your property's value.
One of the most important reminders we give our clients is to always keep tabs on future development plans in and around your neighborhood.

A new school or hospital nearby, for example, can help boost the value of your home over time. On the other hand, a commercial center can cause an increase in local vehicle and foot traffic.
Are you curious about your home's value, or perhaps looking for a Scottsdale home with great resale potential? Contact me, Christy Mooney, at 602-538-5106 for up-to-date advice on the local real estate market. You can also email me at christymooneyaz@gmail.com.