If you haven't been to Scottsdale's one and only National Historic Landmark yet, then it's about time you went.
You don't have to be an architecture aficionado to appreciate the idiosyncratic beauty of Taliesin West. Described as Frank Lloyd Wright's "most dramatic assimilation of a building into a natural environment," it was the famed architect's and his wife's winter home and western headquarters from 1937 to 1959.
Now the home of the Frank Lloyd Wright Foundation and the Frank Lloyd Wright School of Architecture, everything about Taliesin West testifies to Wright's singular vision, mastery over space, and respect for nature. Designated a National Historic Landmark in 1982, it is also listed on the National Register of Historic Places.
---
"NO HOUSE SHOULD EVER BE ON A HILL OR ON ANYTHING. IT SHOULD BE OF THE HILL. BELONGING TO IT." – FRANK LLOYD WRIGHT
---
Few other architects have had as significant an impact on the American home and landscape – as well as on modern and contemporary architecture – as Frank Lloyd Wright. He pioneered many of the design features we take for granted in our homes today, from open floor plans and an emphasis on natural lighting to the blurred lines between indoor and outdoor spaces.
In Taliesin West, Wright's belief that a structure's form and function should be one, and that a building should belong to its site and not impose on it, is fully realized.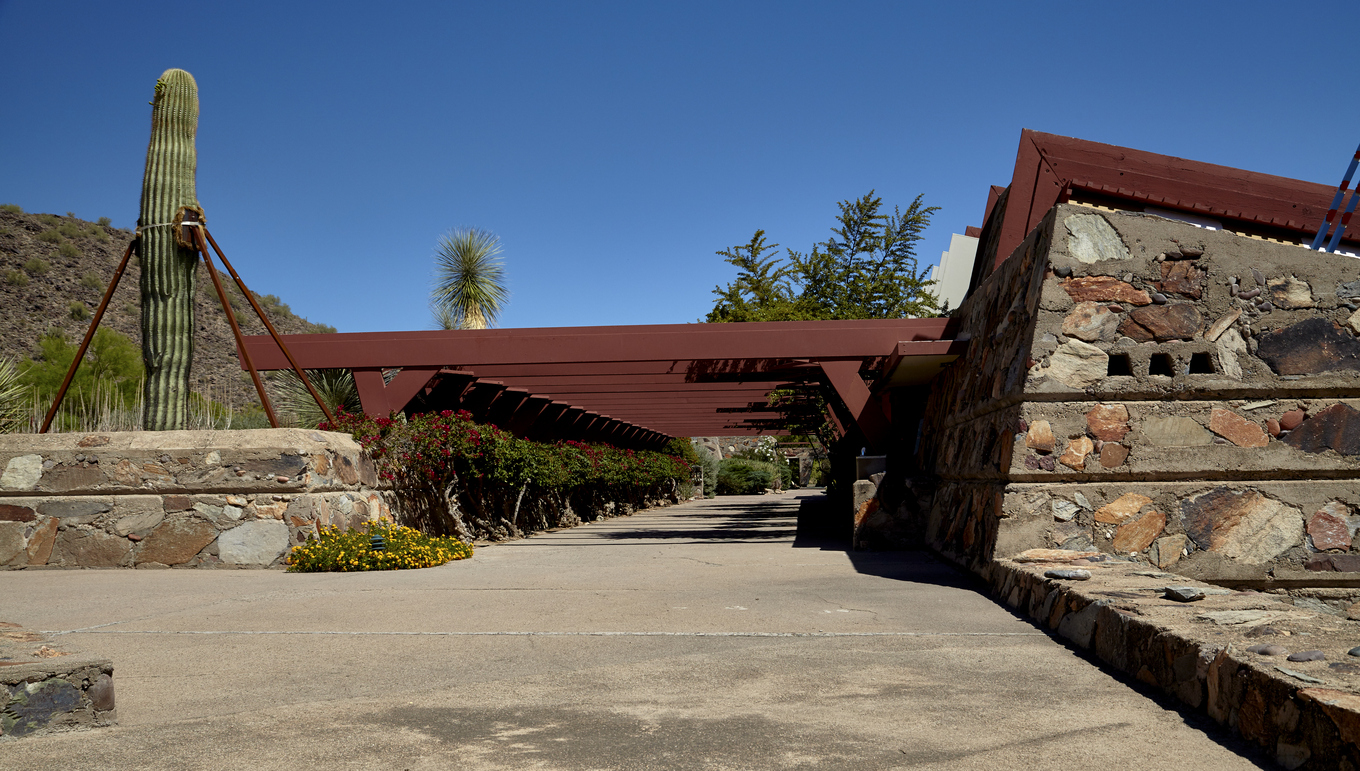 Located in northeast Scottsdale, the complex is tucked away in the foothills of the McDowell Mountains. It extends across some 500 acres in the Sonoran desert and is composed of a variety of structures, including residential spaces that Wright apprentices and students have created over the years.
From the outside, the main structure is at once monolithic and monumental, hewing to its surroundings while also standing a little apart from it, like one of the desert's massive boulders. Go inside and you'll discover that it's actually a series of interconnected structures, each space harmonizing with the whole while maintaining its own distinctive design.
The main structure includes Wright's living quarters, office, drafting studio, the Garden Room, kiva, and two performance spaces – the Cabaret Theater and Music Pavilion – with the former famous for its extraordinary acoustics.
---
"OUR NEW DESERT CAMP BELONGED TO THE ARIZONA DESERT AS THOUGH IT HAD STOOD HERE DURING CREATION."
---
Taliesin West was built over a period of several years by the small army of apprentices that comprised Wright's Taliesin Fellowship. Materials from around the area were used, primarily warm-toned desert stone, and Wright continued to make modifications to the structure throughout his time there.
Taliesin West offers several daily tours that range in length from 45 minutes to over 3 hours. The site is open to the public year round, except on certain holidays. For more information on tickets and tours, check out the foundation's official website.
Also, while Taliesin West is certainly the best-known Frank Lloyd Wright site in the state, you'll also find other Wright-designed buildings in the Phoenix metro area. These include Arizona State University's Gammage Auditorium and the First Christian Church.